Commercial Roof Replacement: Enhancing Your Business with Superior Roofing Solutions
At Royal Roofscapes, we understand the importance of a structurally sound and visually appealing roof for your commercial property. If your current roof has reached the end of its lifespan or has sustained significant damage that cannot be effectively repaired, our commercial roof replacement service is the ideal solution to protect your investment and ensure the long-term success of your business. With our expertise, quality materials, and commitment to excellence, we deliver seamless and reliable roof replacements that exceed industry standards.
Why Choose Royal Roofscapes for Commercial Roof Replacement?
Expertise and Experience: With years of experience in the commercial roofing industry, we have built a reputation for our expertise and professionalism. Our team of skilled and certified roofing specialists is trained in the latest techniques and best practices for commercial roof replacement. We stay updated with industry advancements and regulations to ensure that your new roof meets or exceeds all requirements.

Tailored Solutions: We recognize that every commercial property has unique requirements and challenges. Our approach begins with a thorough assessment of your existing roof to determine the most suitable replacement options. We consider factors such as building size, budget, energy efficiency goals, and aesthetic preferences to provide you with tailored roofing solutions that meet your specific needs.

Comprehensive Project Management: From the initial consultation to the final installation, we manage every aspect of the roof replacement project with professionalism and attention to detail. Our project managers work closely with you to develop a comprehensive plan that minimizes disruption to your business operations. We coordinate all necessary permits, adhere to strict timelines, and keep you informed throughout the process.

High-Quality Materials: We believe in delivering the highest level of quality to our customers. That's why we partner with reputable manufacturers and suppliers to source premium roofing materials for your commercial roof replacement. Whether you prefer traditional options like asphalt shingles or are interested in energy-efficient solutions such as TPO or EPDM membranes, we have the expertise to guide you in selecting the most suitable materials for your specific requirements.

Efficient Installation: Our skilled roofing technicians are equipped with the latest tools and equipment to ensure efficient and precise installation of your new commercial roof. We follow industry best practices and manufacturer guidelines to guarantee that your roof replacement is completed to the highest standards. Our team pays close attention to every detail, from proper insulation and ventilation to secure fastening and flashing installation.

Commitment to Customer Satisfaction: At Royal Roofscapes, we are committed to providing exceptional customer service throughout the entire roof replacement process. Our dedicated team is available to address any questions or concerns you may have, and we strive to exceed your expectations in terms of communication, workmanship, and final results. Your satisfaction is our top priority.
If your commercial property is in need of a roof replacement, trust the experts at Royal Roofscapes to deliver superior results. Our commitment to excellence, attention to detail, and customer-centric approach set us apart as a premier commercial roofing company. Contact us today to schedule a consultation and let us provide you with a comprehensive assessment and tailored solutions for your commercial roof replacement needs. With Royal Roofscapes, your business is in capable hands.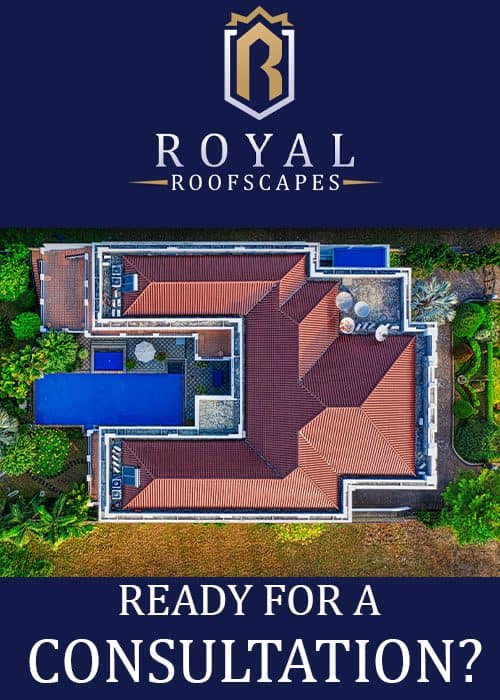 We are here when you need! Call and Book Your Consultation Today!
Questions?
Our experienced professionals will guide you through our products and services.