Residential Roofing Inspections: Ensuring the Protection and Longevity of Your Home
At Royal Roofscapes, we understand the importance of a sturdy and well-maintained roof for your home. A roof is not only a crucial component of your property's structure but also plays a vital role in safeguarding your family, possessions, and investment. That's why we offer comprehensive residential roofing inspections to identify any potential issues and ensure the continued protection and longevity of your roof.
Why Choose a Professional Roofing Inspection?
While it may be tempting to conduct a visual inspection of your roof yourself, a professional roofing inspection provides numerous benefits and peace of mind. Our experienced team of roofing experts has the knowledge, skills, and specialized tools necessary to thoroughly assess the condition of your roof and detect any underlying problems that may go unnoticed to an untrained eye.
Early Problem Detection:
Regular roofing inspections allow us to catch any potential issues early on before they escalate into more significant and costly problems. Our trained professionals will meticulously examine every aspect of your roof, including shingles, flashing, gutters, ventilation systems, and underlying structures, to identify signs of damage, deterioration, or potential weaknesses. By addressing these issues promptly, we can prevent further damage and save you from expensive repairs or premature roof replacement.
Enhanced Safety:
Conducting a roof inspection yourself can be risky and potentially dangerous, especially if you are not familiar with proper safety protocols and do not have the necessary equipment. Our team prioritizes safety and has the expertise to navigate roofs safely, minimizing any potential hazards. You can trust us to handle the inspection professionally and efficiently, ensuring the safety of both our team and your property.
Thorough and Comprehensive Assessment:
Our residential roofing inspections are thorough and comprehensive, leaving no aspect of your roof unchecked. We go beyond a visual inspection, utilizing advanced tools and techniques to assess the condition of your roof in detail. From identifying loose or damaged shingles to evaluating the integrity of flashing and assessing ventilation systems, we leave no stone unturned. This meticulous approach ensures that we provide you with an accurate assessment of your roof's condition and any necessary recommendations for repairs or maintenance.
Expert Recommendations and Solutions:
Following the inspection, our team will provide you with a detailed report outlining our findings, including photographs and a comprehensive analysis of the roof's current state. We take the time to explain the results to you, addressing any concerns or questions you may have. If any repairs or maintenance are required, we will provide expert recommendations and work with you to develop a tailored plan that meets your specific needs and budget.
Peace of Mind:
With our professional roofing inspection services, you can have peace of mind knowing that your roof has been thoroughly assessed by industry experts. Our goal is to ensure that your roof remains in optimal condition, providing you and your family with the protection you deserve. By addressing any issues proactively, we help extend the lifespan of your roof and minimize the risk of unexpected leaks, structural damage, or other costly problems.
Schedule Your Residential Roofing Inspection Today
Don't wait until a minor issue turns into a major headache. Protect your investment and the well-being of your family by scheduling a residential roofing inspection with Royal Roofscapes. Our team of qualified professionals is dedicated to providing reliable, accurate, and top-quality inspections to homeowners like you. Contact us today to schedule your inspection and take the first step towards a safer, more secure, and long-lasting roof for your home.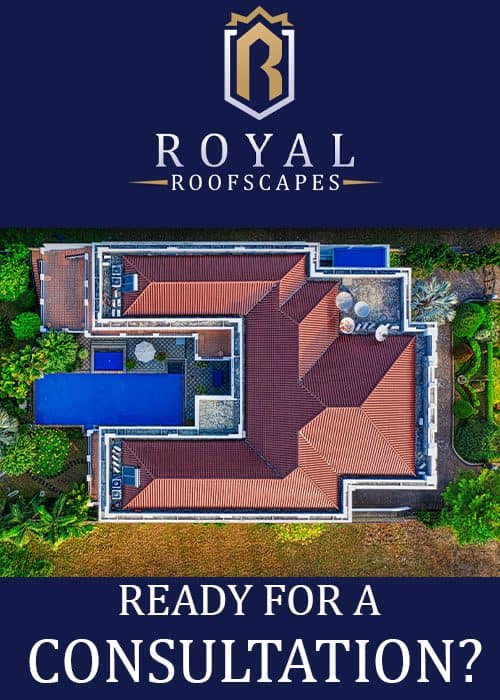 We are here when you need! Call and Book Your Consultation Today!
Questions?
Our experienced professionals will guide you through our products and services.