We take great pride in presenting our unique price/service/quality new construction roofing service. While we may not offer the lowest bid, we guarantee that we will be the premier subcontractor to grace your job site. With a team of highly skilled installers who possess expertise in working with a wide range of roofing materials such as clay, slate, concrete tile, metal, synthetic, and composition, we have successfully executed installations across the spectrum.
At Royal Roofscapes, we place significant emphasis on professionalism, communication, and accountability. Our commitment to professionalism is evident through the conduct of each and every one of our employees and installers. Their exceptional demeanor will undoubtedly be a refreshing experience for builders who are accustomed to dealing with conventional "roofers." As a subcontractor, we recognize that we serve as a direct reflection of the general contractor we work for, and we take this responsibility to heart, proudly representing the esteemed high-end custom home builders throughout the Midwest.
Effective communication is vital in any construction project, particularly in residential new construction. We understand that construction schedules may fluctuate, and unpredictable weather conditions can pose challenges. However, we assure you that we will always be readily available and in constant contact. Our commitment to timely and transparent communication ensures that you are consistently informed and supported throughout the roofing process.
Lastly, our accountability is unmatched. We prioritize addressing any concerns promptly and take ownership of our actions. Our dedicated staff is always at hand to provide swift resolutions to any service-related issues that may arise. We firmly stand behind the quality of our work, and we are confident that no other contractor can surpass the level of service we provide at Royal Roofscapes.
For your residential new construction project, we invite you to reach out to us now for a personalized quote. Experience the Royal Roofscapes difference and witness firsthand the unparalleled service we offer to builders like you.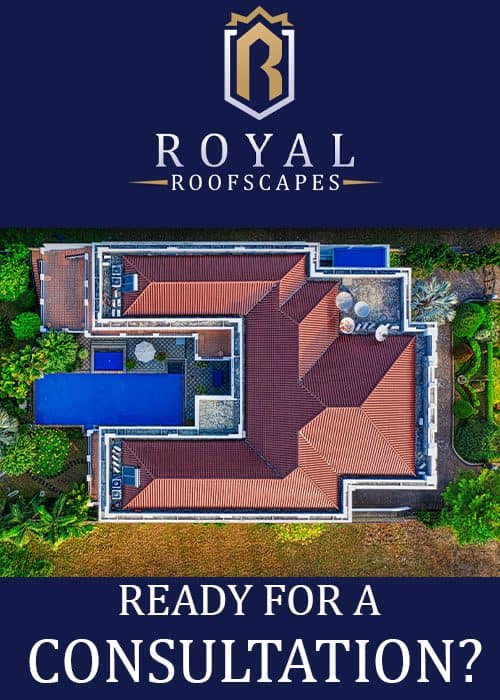 We are here when you need! Call and Book Your Consultation Today!
Questions?
Our experienced professionals will guide you through our products and services.