Roofs can fail prematurely due to a variety of factors, and at Royal Roofscapes, we understand the critical importance of addressing these issues to ensure the longevity and performance of your roof.
Some of the common causes of premature roof failure include:
Improper Pipe and Vent Flashings: Faulty installation of pipe and vent flashings can result in water infiltration, leading to leaks and damage to the underlying structure of your roof.

Stretching the Roof Tile: Tile installations without proper headlap can compromise the integrity of the roof, leaving it susceptible to wind uplift and water penetration.

Incorrect Flashing or Counterflashings: Improper installation of flashings and counterflashings can create vulnerable points where water can seep in, causing damage to the roof and the surrounding areas.

Neglected Broken Tiles: Overlooking broken tiles for an extended period exposes the underlayment to the sun's harmful UV rays, eventually allowing moisture to permeate beneath the roof tiles and compromise the overall integrity of the roof.

Improper Underlayment Installation: The underlayment serves as a crucial protective barrier beneath the roofing material. Improper installation can lead to inadequate waterproofing and increased vulnerability to water damage.

Inadequate Ventilation: Insufficient ventilation in the attic can result in excess heat and moisture buildup, leading to accelerated deterioration of the roof materials and potential mold growth.

Hail Damage: Hailstorms can cause significant damage to roofs, including cracks, punctures, and granule loss, compromising the roof's ability to provide effective protection.

Product Beyond Serviceable Life: Wood shake roofs, for example, have a limited lifespan. As they age, they become more prone to decay, rot, and other structural issues, necessitating a timely replacement.
Our Expert Roof Replacement Services
At Royal Roofscapes, we specialize in the replacement of various roof systems, including wood shake, concrete tile, and composition shingles. With extensive knowledge and experience, our team ensures that your replacement project is carried out correctly and efficiently.
We have collaborated closely with manufacturers to develop industry-leading roofing systems, incorporating the latest advancements in materials and installation techniques. To maximize efficiency, we employ state-of-the-art equipment, ensuring that your roof replacement is completed on schedule, with minimal disruption to your daily life.
Trust the Experts for Your Roof Replacement Needs
When it comes to roof replacement, you need a team of experts who can deliver superior results. At Royal Roofscapes, we prioritize quality craftsmanship, attention to detail, and customer satisfaction. Our goal is to provide you with a durable, reliable, and aesthetically pleasing roof that will protect your property for years to come.
Contact us today to schedule a consultation and experience the professionalism and expertise that sets us apart in the roofing industry. Let us handle your roof replacement project with precision and care, giving you peace of mind and a roof that exceeds your expectations.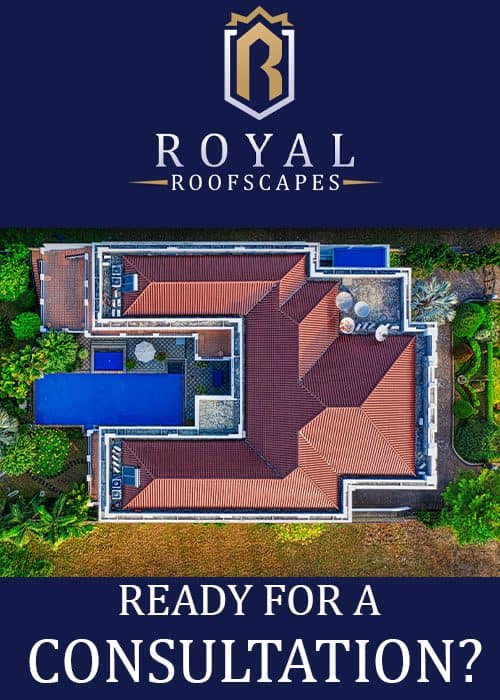 We are here when you need! Call and Book Your Consultation Today!
Questions?
Our experienced professionals will guide you through our products and services.