Royal Roofscapes introduces our Royal Treatment Tile Roof Maintenance Program.
TWO VISITS (EVERY 6 MONTHS) TO YOUR HOUSE PER YEAR AND IT INCLUDES:
Sealing of all exposed nails
Replacement of up to 5 broken field tiles
Valleys blown out with leaf blower
Re-securing any loose tiles
Providing pictures and reports of the condition of your roof (by email)
If any further action is needed to repair your roof throughout the year you will receive a 10% discount towards the cost of the repair
Each visit is invoiced separately
It's easy to get swept up in life and forget that your roof is constantly keeping you protected from the elements. After enough time passes, even the sturdiest roofs can diminish and become less efficient. Regular exposure to rain, snow, sunlight, intense cold and intense heat can really pack a punch. So, it's best to stay ahead of the game and elect to have professional routine maintenance performed on your residential or commercial roof.
Not convinced?
Here are some key benefits of having a professionally maintained roof:
Damage Control
Often times, roof leaks are detected far too late. Homeowners usually only notice a leak once there has been an incident, and at that point, there might already be severe interior home damage. Having a properly maintained roof would prevent catastrophes like that from happening. Even if you notice staining on your roof, contact professionals immediately. This is a clear indication there's a problem and you can quickly remedy the issue before it gets worse.
Curb Appeal
The exterior of your home can look absolutely amazing, but if your roof is shabby it'll completely drag down its look. If your roof looks consistently maintained, it'll be a staple of your home. Having a roof that looks practically new at all times isn't only satisfying as a homeowner, but it could be a real selling point if you ever choose to leave your current residence.
Extended Roof Life
All roofs have a shelf life, but if you keep your roof thoroughly maintained you can be absolutely sure that roof will last you a long time. The roof will have the chance to be cleaned, repaired, sealed, and recoated, all of which make it exceedingly durable. Complete roof replacements are not cheap, and professional maintenance will keep that from being a reality for the longest amount of time possible.
These are just a few of the advantages of having your roof professionally maintained. Remember, your roof keeps you and your family safe day in and day out, and it doesn't even get a "thank you". So, show your roof you care by entrusting the professionals at Royal Roofscapes to maintain your roof. We'll make sure it safely caps off your home for years to come.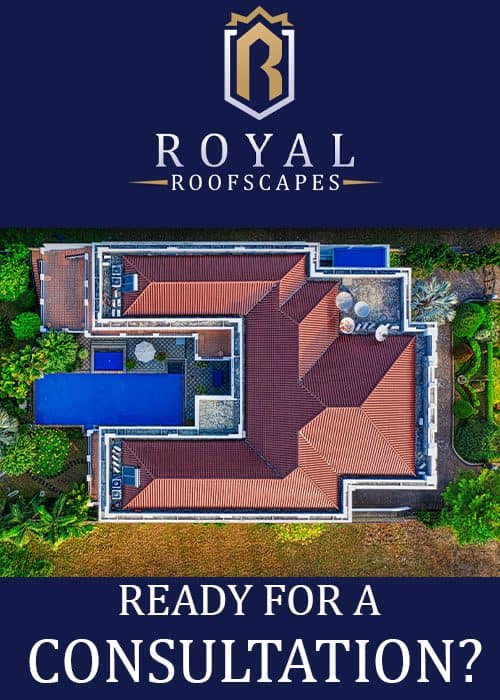 We are here when you need! Call and Book Your Consultation Today!
Questions?
Our experienced professionals will guide you through our products and services.