Commercial Roofing Maintenance: Ensuring Longevity and Performance
At Royal Roofscapes, we understand that your commercial property is a valuable investment. A well-maintained roof not only protects your business assets but also enhances the overall appearance and value of your property. That's why we offer comprehensive commercial roofing maintenance services to ensure the longevity and performance of your roof.
Why is Commercial Roofing Maintenance Important?
Regular maintenance is crucial for commercial roofs due to their exposure to various weather elements, UV radiation, foot traffic, and potential damage from equipment installations. Neglecting proper maintenance can lead to costly repairs, premature roof failure, and disruption to your business operations.
Our Expert Roofing Maintenance Services
Roof Inspections: Our team of experienced roofing professionals conducts thorough inspections to assess the condition of your commercial roof. We identify potential issues such as leaks, cracks, damaged flashing, or membrane deterioration. This allows us to address minor problems before they escalate into major issues.

Preventive Maintenance: We develop customized maintenance plans tailored to your specific roof type and requirements. Our preventive maintenance includes regular cleaning, gutter clearing, and debris removal to prevent clogging and water ponding. We also inspect and repair flashing, sealants, and penetrations to ensure a watertight and secure roof system.

Roof Repairs: In the event of roof damage or leaks, our skilled technicians provide efficient and durable repairs. We use high-quality materials and advanced techniques to restore the integrity of your roof and prevent further damage.

Roof Coatings: As part of our maintenance services, we offer roof coating applications. Roof coatings provide an additional layer of protection against UV rays, moisture, and weathering. They can extend the lifespan of your roof and enhance energy efficiency by reducing heat transfer.

Emergency Roofing Services: We understand that unexpected roofing emergencies can occur at any time. Our dedicated team is available 24/7 to provide prompt emergency response and repair services to minimize damage and protect your property.
Benefits of Choosing Royal Roofscapes for Commercial Roofing Maintenance
Expertise and Experience: With years of industry experience, our team has the expertise to handle all types of commercial roofs. We stay updated with the latest roofing technologies and best practices to deliver top-notch maintenance services.

Customized Solutions: We recognize that each commercial property has unique roofing requirements. Our team works closely with you to develop tailored maintenance plans that align with your budget and specific needs.

Quality Materials and Workmanship: We prioritize the use of high-quality materials and employ skilled craftsmen to ensure exceptional workmanship. Our commitment to excellence guarantees long-lasting results and customer satisfaction.

Cost Savings: By investing in regular maintenance, you can avoid costly repairs or premature roof replacements. Our proactive approach helps identify and resolve issues early on, saving you money in the long run.

Peace of Mind: With our comprehensive maintenance services, you can have peace of mind knowing that your commercial roof is in the hands of professionals who are dedicated to preserving its integrity and maximizing its lifespan.
Contact Us for Professional Commercial Roofing Maintenance
At Royal Roofscapes, we are committed to delivering superior commercial roofing maintenance services. Our experienced team is ready to assess, maintain, and protect your commercial roof for years to come. Contact us today to schedule a consultation and experience the Royal Roofscapes difference.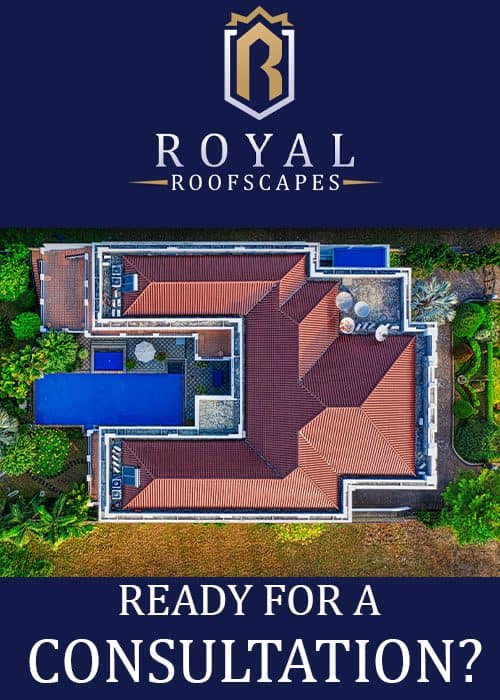 We are here when you need! Call and Book Your Consultation Today!
Questions?
Our experienced professionals will guide you through our products and services.